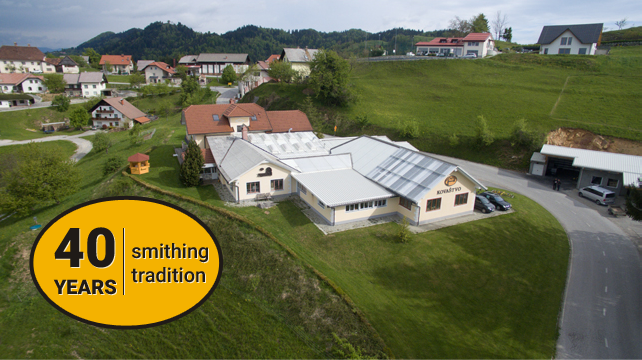 We are a family business with a long smithing tradition.
In the course of 35-year operation our company modernized the forging tradition and focused towards the production of agriculture and forestry equipment. Innovative work, quality, versatile use and aesthetic look of our products, established a good reputation, both at home and abroad. The production range was changing according to demands on the market, over the years.
The current production range consists of products presented in this catalogue. We also produce forged stair and balcony fences and forged window guards. The production range also includes the manufacture of various machines for wood and metal trade (to order). We also offer the services on the hydraulic presses (20, 100, 300 T) and CNC-lathe (turning length 500mm, turning diameter 500mm).
Splošno kovaštvo – Leopold Oblak s. p.
Šentjošt 51, 1354 Horjul, SI – Slovenia
T: +386 1 7540 069
F: +386 1 7540 040
E: info@pok-oblak.net
Identification number: SI 10042792
Our transaction account is at Nova Ljubljanska banka:
SI56 02018-0015581266
Swift: LJBASI2X